A Stronger Kentucky
A Stronger Kentucky, Inc. is a corporation organized exclusively for charitable, religious, literary, educational, and scientific purposes under section 501(c)(3) of the Internal Revenue Code of 1986, as amended.
The organization supports efforts to promote the health and well-being of the citizens of the Commonwealth of Kentucky. Funds were donated to A Stronger Kentucky, Inc. to produce and publish People over Politics by Steve Beshear and Dan Hassert. Proceeds from the sale of the book will be donated to charitable and educational causes.
---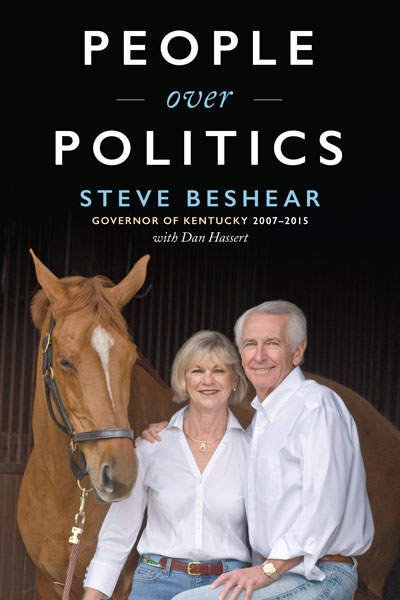 ISBN 978-1-941953-45-7
Published May 26, 2017
Hardcover
368 pages
Politics / Government
People over Politics
Before the eight-year administration of Governor Steve Beshear, many people associated Kentucky with Hollywood's hillbilly stereotype or perhaps with fried chicken, bourbon, college basketball, or the Kentucky Derby.
But suddenly, national headlines started touting the Bluegrass State as one of the most progressive in the country. Kentucky became the national model for how well the Affordable Care Act could work. The state was the first to adopt the Common Core education standards and achieved huge increases in high school graduation rates. Kentucky filed a strategic appeal that sent the bitter fight over same-sex marriage to its last legal battleground. And the state finished No. 1 in large-scale economic development per capita two years in a row, thanks to a governor who said he would go "anywhere, anyplace, anytime" to attract jobs and new business investment.
These events not only changed Kentucky's image but also attacked fundamental weaknesses that were dragging down the state. And they occurred despite a state budget crippled by a global recession, a state legislature split by partisan differences, and a national political climate that had soured society's respect for government at all levels.
With candor and sincerity – and with the help of Dan Hassert, who wrote his speeches for eight years – Governor Beshear shares the inside story of how Kentucky made democracy work and how the nation can do the same.
People over Politics provides a rare glimpse into how one elected leader, fiercely determined to change the course of Kentucky's future, fought to overcome political partisanship, forge pragmatic partnerships, and improve the lives of his state's families.
Book includes a 32-page, full-color photo insert
Testimonials
"If you want to know the real impact [the Affordable Care Act] is having, just talk to Governor Steve Beshear of Kentucky.… He's like a man possessed when it comes to covering his commonwealth's families."
—President Barack Obama
2014 State of the Union Address
"Indiana was fortunate to have Steve Beshear as a neighbor, and I was fortunate to be his partner on a host of projects vital to both states. By proving that in politics 'gridlock' and vilification are not inevitable, this is an important book at just the right time in our national life."
—Mitch Daniels
President of Purdue University
Former Republican Governor of Indiana
"Steve Beshear is a Democrat and I'm a Republican, but we were able to put partisan differences aside and help Kentucky families by addressing the opioid crisis and by diversifying Eastern Kentucky's economy through the SOAR initiative. That required mutual trust and a willingness to collaborate, but that's how government is supposed to work."
—US Rep. Harold "Hal" Rogers, R-Ky.
"If the moral test of government is how it treats people who are vulnerable, then Steve Beshear aced that test. He recognized the opportunity to help hundreds of thousands of people in Kentucky with improved health care coverage, and he didn't rest until it worked."
—Kathleen Sebelius
21st Secretary, US Department of Health & Human Services
"Our Governor's Cup award, which Steve Beshear won two years in a row, recognizes economic development leadership in a league of its own. Our readers only invest in business climates they know will help them be successful long term, and the governor and his team made sure Kentucky could deliver on that expectation."
—Mark Arend
Editor in Chief, Site Selection
"From our very first conversation with Kentucky Governor Steve Beshear, Tiffany & Co. officials knew we were working with a governor who both knew the value of our company and the importance of strong synergy between government and the private sector. We knew he and his team could be trusted to do what they said and help us succeed. Steve and his team delivered."
—John S. Petterson
Retired Senior Vice President, Tiffany & Co. Global Operations
---